The Clearing
JJJJJerome Ellis
Document Series #8
Softcover with jacket, 128 pages, 13 × 10 inches
ISBN: 978-1-7359242-5-0
Designed by Rissa Hochberger
Printed in Latvia
Edition of 1,000

November 2021 (First edition)
Sold out
April 2023 (Second edition)
25 USD
About the publication
JJJJJerome Ellis's The Clearing asks how stuttering, blackness, and music can be practices of refusal against hegemonic governance of time, speech, and encounter. Taking his glottal block stutter as a point of departure, Ellis figures the aporia and the block as clearing to consider how dysfluency, opacity, and refusal can open a new space for relation. Stemming from Ellis's essay "The clearing: Music, dysfluency, Blackness, and time," published in 2020 in the Journal of Interdisciplinary Voice Studies (Volume 5, Issue 2) the present volume transcribes and translates his investigation across genres and media, turning to the page to ask: How can a book bear the trace of music, and the racialized, disabled body? Can a book be not just a manuscript, but a glottoscript? Ellis opens space for thinking liberation theoretically, historically, and lyrically.

This book is released in tandem with an album co-produced by Northern Spy / NNA Tapes and The Poetry Project.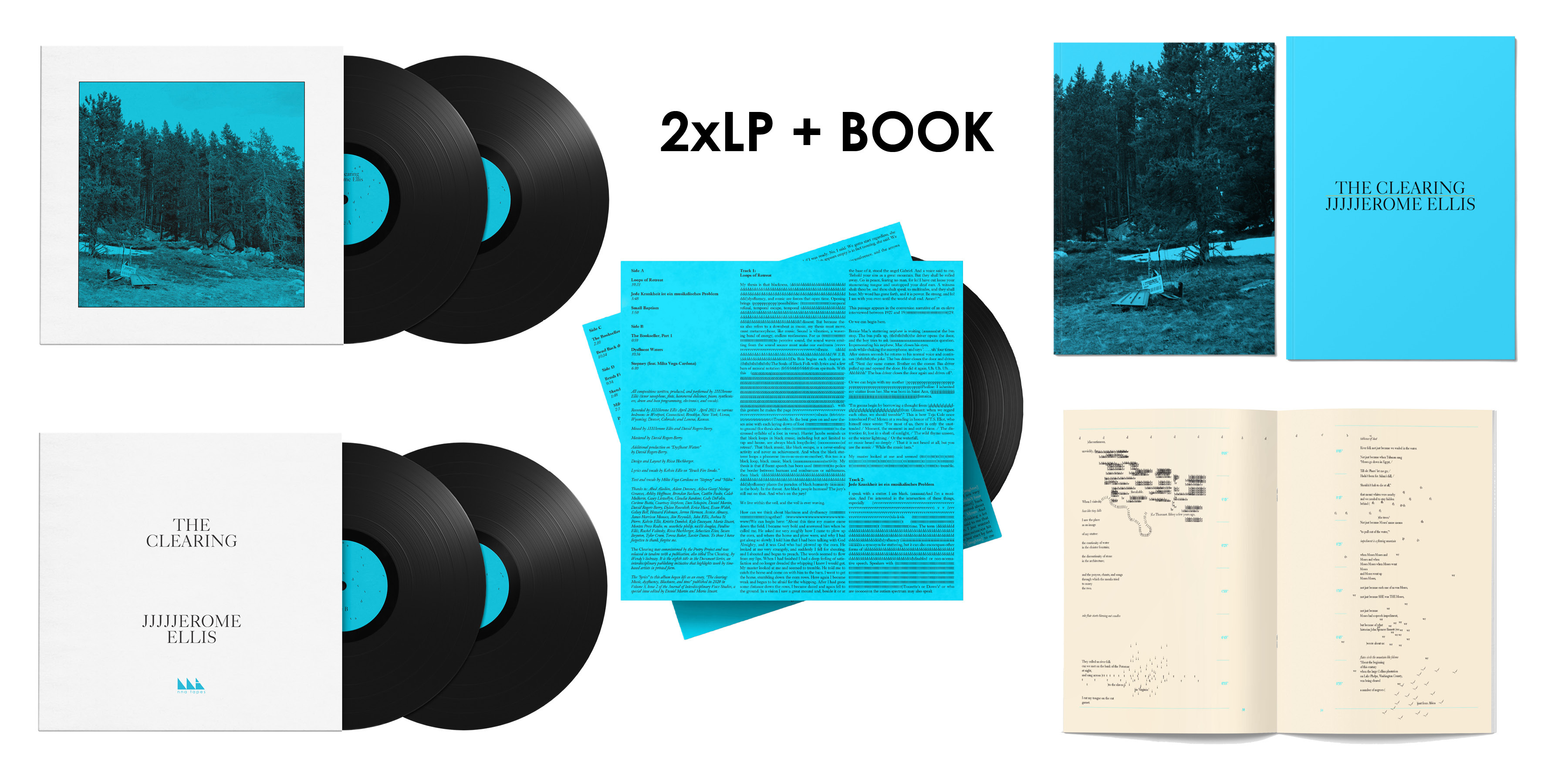 Praise
The Clearing is many things: a lyrical celebration of and inquiry into the intersections of blackness, music, and disabled speech; a restless interrogation of linear time; an intimate portrait of the author's real-time experience of his stutter; a baptism in syllable and sound; and a manuscript illuminated by The Stutter. At its core, Ellis' metaphor of the clearing becomes a place of possibility and "momentary, transitory, glimpsed liberation." He invites us to meet him there.
—Claudia Rankine
What happens if we don't try to define things like blackness and stuttering, but instead let them be indefinite, leave them open to the breeze? In The Clearing, JJJJJerome Ellis asks the question and then stages an answer in sound and text, giving us all the drama, inwardness, and transgression of stuttering and teasing out the implications of its convergence with blackness. Ellis maps the word's journey from mind to mouth, between people and places and across transnational histories, letting dysfluencies wander freely along the page. In the process, he dramatically expands our understanding of stuttering, bringing it beyond the rigid definitions of speech pathology—and the fluent-speaking world as a whole.
—Emma Alpern
The originality of Ellis' work cannot be overstated. Here, dysfluency, blackness, music and time continually intersect and diverge, informing and reshaping each other as forces of resistance converging on "the clearing"—a site of encounter between the dysfluent and fluent voice that generates new understandings of the creative, interpersonal, and political power of stuttering speech. Moving between the intimacy of bodies in the shared space and time of the stutter, and the broader historical landscape of slavery and its legacies, The Clearing places race at the epicentre of a growing movement to reclaim the stutter as a vital expression of the diversity and richness of our communicative lives.
—Maria Stuart
There is a tome of philosophy in a glottal block. The Clearing is an extended meditation on the beauty of dysfluency. The stutter is a wave, a river, a passageway across time, the bridge between the sonic hold and the rocky outcrop of language. In this wondrous volume, JJJJJerome Ellis invites us to listen to the music of the stutter as a way to think blackness and its potentiality, to gather with monks, fugitives, stutterers, and philosophers, those able to make an enclosure or a block into music. How exquisite the sounds.
—Saidiya Hartman
About the author
JJJJJerome Ellis is a blk disabled animal, stutterer, and artist. Through music, literature, performance, and video, he explores blkness, disabled speech, and music as forces of refusal, possibility, reparation, and healing. His diverse body of work includes contemplative soundscapes using saxophone, flute, dulcimer, electronics, and vocals; scores for plays and podcasts; albums combining spoken word with ambient and jazz textures; theatrical explorations involving live music and storytelling; and music-video-poems that seek to transfigure historical archives. JJJJJerome's solo and collaborative work has been presented by Lincoln Center, The Poetry Project, and ISSUE Project Room (New York); MASS MoCA (North Adams, Massachusetts); REDCAT (Los Angeles); Arraymusic (Toronto); and the Center for African American Poetry and Poetics (Pittsburgh, Pennsylvania), among others. He is a signed artist with NNA Tapes. His work has been covered by This American Life, Artforum, Black Enso, and Christian Science Monitor. JJJJJerome collaborates with James Harrison Monaco as James & Jerome or Jerome & James. Their recent work explores themes of border crossing and translation through music-driven narratives. They have received commissions from the Metropolitan Museum of Art and Ars Nova.
Press
Sarah Jane Cervenak, "b.O.s 17.3 / Loops of Retreat," ASAP Journal, July 18, 2022

Erica N. Cardwell, "JJJJJerome Ellis's The Clearing," The Brooklyn Rail, March 2022

"Stuttering, Blackness, and Music with JJJJJerome Ellis, Part 2," Proud Stutter podcast, February 2022

"Five Essential Books to Enliven Your Art Library," Cultured Magazine, February 4, 2022

JJJJJerome Ellis, "Conversations on Sound and Power," interview by Sonic Insurgency Research Group, March International (December 2021)

JJJJJerome Ellis, "The Clearing: Melismatic Palimpsest" and "Dysfluent Waters," Prospections: No Linear Fucking Time, BAK, December 3, 2021

Shy Thompson, "JJJJJerome Ellis, The Clearing," Pitchfork, November 30, 2021

Kadish Morris, "Artist and Stutterer JJJJJerome Ellis: 'So much pain comes from not feeling fully human,'" The Guardian, November 10, 2021

John Schaefer, "Poet, Composer, Stutterer JJJJJerome Ellis Creatively Shapes Time," New Sounds, November 8, 2021

Christian Kriegeskotte, "JJJJJerome Ellis Reframes Disability as a Means for Creation in 'The Clearing,'" I Care If You Listen, October 23, 2021

"REVISIO: JJJJJerome Ellis, The Clearing," Obladada, October 29, 2021

Brad Rose, "Track Premiere: JJJJJerome Ellis, 'Dysfluent Waters,'" Foxy Digitalis, October 13, 2021